The concern has ample of personal experience and know how, from weaving of Greige Fabric, Processing of Greige Fabric to Bleached Mercerised Fabric and to the printing on the Bleached Mercerised Fabric in to Finished Printed Fabric. We have our Associates, who constantly endeavour to see that the channel from Greige Fabric to the packing of the Finished Printed Fabric is not hampered at any stage of the production line.


We have Modes of Printing is as under: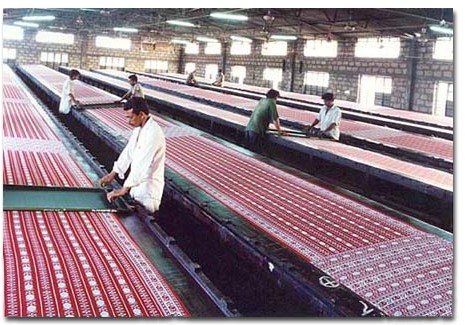 A) Manual Screen Printing
The total printing job is made by hand crafted by skilled Indian printers. The whole product is benefited by economies of labour prevalent in India. In this process of goods are very cost effective and competitive all over the world. Our associated mannual screen printing units located at Jetpur in the Indian state of Gujarat. We execute printing of widths upto 58" and desings upto 8 colors. We ensure our best efforts to see that we get a daily production of 150,000 meters (subject to weather conitions) of fabrics per day.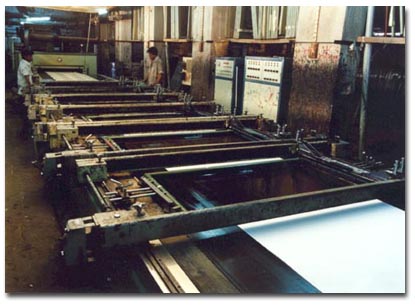 B) Mechanised Printing:
To provide our clients with the best quality from India, our goods are manufactured on our 3 fully automatic ultra-modern flat bed and rotary printing machines. This mechanised printing is done at our associated plant at Jetpur in the Indian State of Gujarat. We ensure rapid processing of high quality orders, garaunteed 99% back to back color penetration (Specially for African Wax Prints) in the 100% cotton fabric at the rate of 100,000 meters per day each.
Production Capacity:
To cope up with our bulk exports and timely shipments, we have a daily cumulative production capacity of 250,000 meters of fabrics (subject to weather conditions) by Manual Screen Printing and Mechanized Printing.